Newsflash
Think you can tell the difference between a fake Fender Guitar and a real Fender Guitar? There are a lot of these in circulation on the internet. Fake Fender Stratocaster, Telecaster, Jazz Bass Guitars and more. Get Your Own Copy of the eBook that tells YOU all about fake Fender Guitars and how YOU can spot one!
| | |
| --- | --- |
| Fake Fender Guitars- How To Spot One | |
Hello everyone, this is Brian Kloby of Ace Guitar Shop with some eye opening information that will help you spot a Fake Fender Guitar if you should come across one.
I was contacted by a business person from China. This individual claimed to be a distributor of guitars. All of the popular brand names were present.... Gibson, Epiphone, Ibanez and Fender to name a few. Now, to the un-educated eye, these guitars appear to be the real thing. Meticulously made with a lot of focus on detail. Fender Stratocaster, Telecaster, J Bass and P Bass Guitars to name a few. It's easy to see where a lot of people can be duped by these fakes. This person contacted me specifically with the hope that I would purchase large quantities of these guitars to sell here in the USA. I've been around guitars for over 27 years. I've seen a great deal of Fender and many other brands. After much contact, questions and reviewing pictures of these guitars I could see the inconsistencies with what this individual from China was trying to sell. Fortunately I was able to determine that everything this person had to offer was..... a FAKE.
Something you should know... There are a good deal of these guitars in circulation right now. These guitars can be found right now on shopping sites like eBay, Amazon and Yahoo. In many cases the sellers themselves don't even know that they are selling fake guitars. After you look at some of the pictures you'll see why. These guitars are guaranteed to fool even the most experienced of guitar players if they're not paying attention. My goal is provide you with the info you need to prevent yourself from becoming a victim of a fraudulent Fender Guitar sale.
Let's start with this fake Stratocaster Guitar here: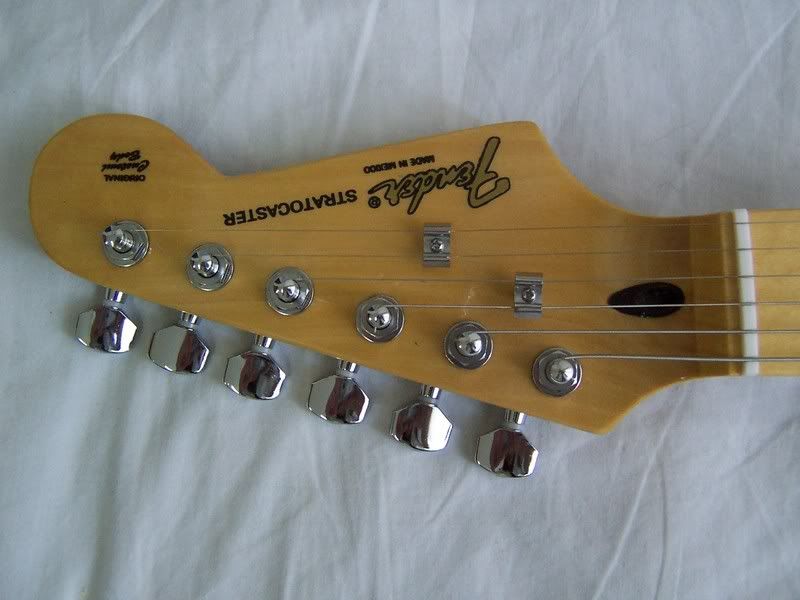 See what I mean... It certainly looks like the real deal right? Now, here's how I could tell this guitar is NOT a real Fender Guitar.
Find Out Now... Get The eBook!
You get of All the Information UPDATED with Over 30+ Never Before Seen, Detailed and Revealing Pictures of fake Fender Guitars!
There's a serious problem right now...
Fake Gibson Guitars are being sold on trusted shopping sites like eBay, Amazon and Yahoo.
They're also showing up at local Music Stores. You can spend days searching the internet trying to find information on how to spot one.
Find out Faster with the eBook.
Now, You can Have the Answers emailed directly to Your Inbox!

Musical Instruments, Accessories, E-Books
Use the Search Box to quickly find what you're looking for. E-books about How To Spot Fake Fender, Epiphone & Gibson Guitars, Guitar & Bass Accessories, Portable Amps, Travel Guitars &a [ ... ]